Article published at The Guardian, 29th May 2016
Historians say unprecedented national centre would help future generations understand a conflict that tore country apart 80 years ago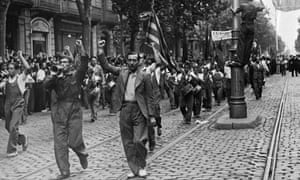 Barcelona was one of the key centres of resistance to Franco's Nationalist forces. In December 1936, George Orwell famously travelled to the city to fight in defence of Spain's elected Republican government. He later wrote the classic war memoir Homage to Catalonia about his experiences and subsequently become a journalist for the Observer.
Orwell's adopted son, Richard Blair, president of the Orwell Society, has lent his support to the museum project. He said: "We are wholly in favour of this and wish the project every success. Many young people in Spain have not been taught in depth about the civil war and don't really have an understanding of what happened from 1936-39 or of the dictatorship that followed.
"You can't have a black hole. The time has come for the history to be looked at again."
Read the full article here.