By CityLab
Flip through the key chapters in the city's life from 150 A.D. to 2010.
Historic Charter of Barcelona
It's now possible to flip through the key chapters of Barcelona's life as a city, through the The Historic Charter of Barcelona.
This is a new interactive mapping project tracking the history of the capital of Spain's Catalonia region from 150 A.D. to 2010, created by an urban-planning and data-viz collective called 300.000 Km/s (whose projects we've written about in the past). From the press release:
The Historic Charter of Barcelona is a pioneering tool in the research and dissemination of urban history, making Barcelona the first city in the world to have a tool of this complexity. The Historic Charter is a document aiming to study the history but also to explain it: a tool to think the future by understanding the past.
This project presents 24 maps, each representing a different milestone in the city's growth over time. These maps were pulled from historical and archeological sources, standardized, cross-checked and corrected by historians, and finally, laid over a timeline. Each is accompanied by a blurb summarizing the developments in urban planning at that time. Flipping from one to the next, users can clearly follow the evolution of Barcelona from a small urban settlement to the bustling metropolis it is today. Again, from the press release:
The redrawing not only facilitates the review and correction of errors in the old cartographies, less accurate, but also provides a graphic representation that is consistent throughout all the stages. This coherence allows the cartographies to be real in parallel and compare the transformations experienced by the city.
This gif shows an abridged version of that transformation: watch here.
What's especially cool about the project is that it allows users to superimpose all sorts of important information on the base map. Below is a map of the city from 1750 (in red), overlaid with another (in green) of Barcelona's current urban design, for example: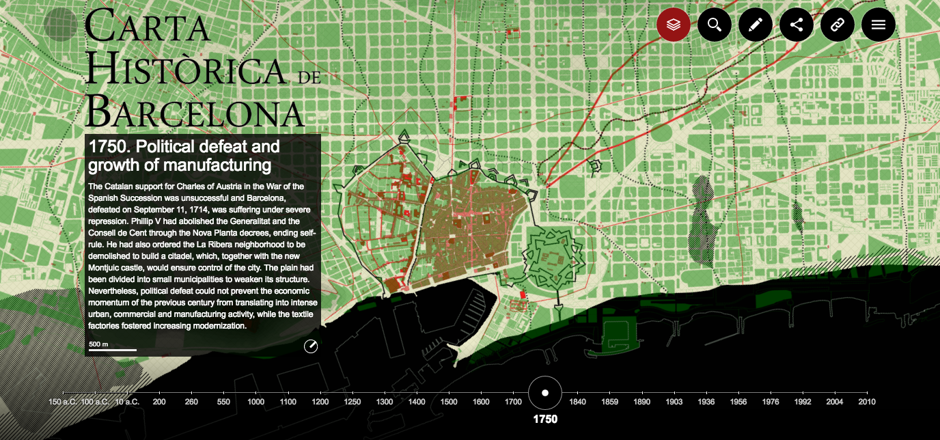 The full article is here.